About
Lisa M. Landreman is the Associate Dean of Students at Macalester College. Lisa received her Ph.D. from the Center for the Study of Higher Education at the University of Michigan, her M.S. in higher education and student affairs from Indiana University, and a B.S. in social work from the University of Wisconsin–LaCrosse. Lisa has authored publications on social justice topics and was an editorial assistant for About Campus magazine. She has served in several ACPA directorate body positions, including the Commission for Social Justice Educators, the Commission for Housing and Residence Life, and the Commission for Alcohol and Other Drug Issues, and she served on convention and social justice and residential curriculum institute planning teams. Lisa was recognized in 2011 as an ACPA Diamond Honoree.
Author's Books
An ACPA Co-Publication
Series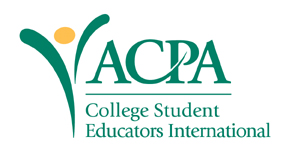 Reflections From Social Justice Educators
E-Book

E-books are now distributed via RedShelf or VitalSource
You will choose the vendor in the cart as part of the check out process. These vendors offer a more seamless way to access the ebook, and add some great new features including text-to-voice. You own your ebook for life, it is simply hosted on the vendors website, working much like Kindle and Nook. Click here to see more detailed information on this process.